PL-650 Big PELA Oil Extractor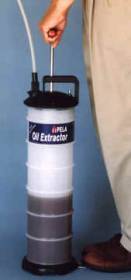 Requires just 4 to 15 strokes to create a powerful vacuum. The integrated container (6.5 litres) then neatly captures the oil preventing messy spills. The calibrated walls allows easy measurement of the oil extracted. A built-in float switch automatically stops extraction as soon as capacity is reached. A pour spout facilitates emptying. The Big PELA is a durable, maintenance free unit. It is ideal for professional use. Capacity: 6.5 litres (1.7 gal)
Height: 25"
Cylindrical Diameter: 6.25"
Tubes: 3/16" & 1/4" OD, Length 33" each
Extension Tube: Length 39"

Basket Contains 0 of this item.
Prices Include VAT